Before I go into the aw inspiring way I cut $320 from the bottom line of this project, lets first take a moment to look at a fine piece of hardware purchased from FLA and explain why I have this big countdown running now. The bearing blocks are crazy cool in the way that they are adjustable. Much better than anything that I have attempted in the past.
Now on to this count down thing. As I mentioned in a previous post, I need a dead line. so here it is.
If that's not enough time then I deserve to fail.
Here sits $350 worth of aluminum.
And here is $670 worth of aluminum.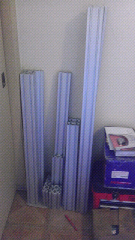 The difference is a five dollar saw blade from Lowe's and the ability to accurately cut the different lengths. The lengths needed to make the bed have been cut. Holes still need to be located in all of the pieces in order to assemble the bed.
I have ordered the flat steel bar stock for the X and Y rail. I'm not looking forward to drilling the multitude of holes in each of them but I will save over a hundred dollars by drilling them myself...If I can manage to get them accurately located.
Other news is that I found out I'm going to have to order some 8020 gussets that aren't included in the fastener bundle I picked up. Not a big deal but another expense to add to the list.